All About Al-Anon
Most people are aware of Alcoholics Anonymous (A.A.) meetings. A.A. provides a supportive community for individuals recovering from alcoholism and committing to a life of sobriety. But alcoholism not only affects the addict but also those involved in their life.
How Does Al-Anon Work?
Another organization, Al-Anon, provides a supportive community for individuals with loved ones struggling with or recovering from alcoholism. Al-Anon was founded in 1951 as a worldwide fellowship that offers a program of recovery for families and friends of alcoholics, whether or not the alcoholic recognizes they have a drinking problem or seeks help. Like A.A., Al-Anon meetings take place on a walk-in basis. Al‑Anon has no membership list and does not take attendance. Those who attend Al-Anon are welcome to attend as frequently or infrequently as they choose. Al-Anon is anonymous as well, so members can choose to share their full name or not. Meetings are confidential, and the community does not disclose who they see or what they hear at meetings to anyone. There are a variety of reasons why people are reluctant to attend their first meeting, and offering this protection and a safe space to be vulnerable without judgment aids in the healing process.
The History of Al-Anon and Alateen
Al-Anon was co-founded in 1951, 16 years after the founding of Alcoholics Anonymous, on June 10, 1935, by Anne B. and Lois W. (wife of A.A. co-founder Bill W.). Before the formation of Al-Anon, families of alcoholics met in independent groups. Bill thought these groups could be consolidated and that Lois should be the one to take it on. Soon enough, Al-Anon adopted the Twelve Steps of Alcoholics Anonymous for their use with the exception of the Twelfth Step, changing the word "alcoholics" to "others." Alateen, part of Al-Anon, began in California in 1957 when a teenager named Bob joined with five other young people who had been affected by the alcoholism of a family member.
The Purpose of Al-Anon Meetings
Al-Anon has but one purpose: to help families of alcoholics. Al-Anon practices the Twelve Steps by welcoming and giving comfort to families of those struggling with alcohol abuse and by giving understanding and encouragement to the alcoholic. It is important to understand that Al-Anon is not an intervention program, and the organization does not have the primary purpose of stopping another's compulsive drinking. Al-Anon is for the individual attending, not the alcoholic. The only person who can stop the alcoholic from drinking is the alcoholic themself. Many loved ones have believed that they can help make an alcoholic stop drinking by giving them a "good reason" not to drink. However, this is not always the case, as there needs to be a willingness to change on the part of the individual. In fact, more than 95% of alcoholics have families, friends, and jobs. They may function fairly well, but some part of their life is suffering. Their drinking causes a continuing and growing problem in their lives and the lives they touch.
Does Al-Anon Help?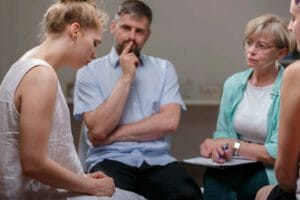 Many who come to Al-Anon and Alateen are in despair, feeling hopeless, unable to believe that circumstances can ever change for them, and their relationships. In Al-Anon and Alateen, members share their own experiences, strength, and hopes with each other. This community allows individuals to meet others who share the same feelings and frustrations. Having an outlet and a support system can stop the relationship with the alcoholic from spilling over to other aspects of life. Attendees of Al-Anon come together to learn a better way of life and to find happiness whether the alcoholic is still drinking or not.
When an alcoholic's spouse is active in Al-Anon and the alcoholic is active in A.A., the alcoholic is more likely to be abstinent, they are more likely to experience increased marital happiness, and parenting by both is more likely to improve.
Spiritual Principles of Al-Anon
Al-Anon is a spiritual fellowship, not a religious one. This organization's Twelve Steps ask attendees to find a"Power greater than themselves" that aids in finding serenity. Each member is free to define that power in his or her own way, whether that is God or another form of spiritual energy.
Al-Anon is not allied with any sect, denomination, political entity, organization, or institution, does not engage in any controversy, and neither endorses nor opposes any cause. There are no dues for membership, but Al-Anon is self-supporting through its own voluntary contributions.
Al-Anon Meeting Format
Attendees can choose to speak or not speak during the meetings. In fact, some members may attend Al-Anon only for active listening purposes and to adopt new perspectives.
Newcomers are welcomed to meetings, usually provided with literature and a local meeting list, and invited to listen and learn. Some meetings offer beginners' meetings, specifically for newcomers. Many members who attend meetings regularly have specific meetings that work best for them and what they are going through, whether that is a Women Finding Hope Through AFG or a People of Color Group, for example.
Groups are usually anywhere from five to twenty-five people. The groups can feel supportive in a larger setting, but groups can also feel intimate when members split into smaller groups after the opening readings so everyone has a chance to speak and minimize "cross-talk", or speaking during another person's share. In electronic meetings, this also includes typing notes in the Chat section to the group during someone's turn to speak.
Online Al-Anon Meetings
Currently, due to the pandemic, the majority of Al-Anon meetings are virtual via multiple digital outlets. At first, many people may view the virtual setting as a detriment to making connections in person. One benefit of the virtual platform, however, is the ability to join a community, anywhere in the world, at any time zone, every hour of the day.
The Focus of Al-Anon Meetings
The Al-Anon and Alateen literature focus on problems that are common to family members and friends of alcoholics such as excessive care-taking, an inability to differentiate between love and pity, support and enabling, and loyalty to abusers. Instead of focusing on the problems of the alcoholic, this community focuses on improving the member's lives.
Realistically, Al-Anon acknowledges that members may join with low self-esteem, mainly a side-effect of unrealistically overestimating their agency and control over their situation. After attempting to control another person's drinking and taking on negative emotions when they fail, the tendency is to blame themselves for the other person's behavior. Al-Anon members are encouraged to keep the focus on themselves, rather than on the alcoholic. Although members believe that changed attitudes can aid recovery, they stress that one person did not cause, cannot cure, and cannot control another person's alcohol-related choices and behaviors.
Overcoming Obstacles to Success in Al-Anon
Alcoholism is a family disease. The disease affects all those who have a relationship with a problem drinker. Those closest to the alcoholic suffer the most, and those who care the most can easily get caught up in the behavior of the addicted person. These loved ones may have an unhealthy focus on the addict, what they do, where they are, and how much they drink. In these cases, loved ones may habitually try to control the alcoholic's drinking and then get upset when they sneak drinks or do not listen to their advice. Those closest to an alcoholic take on the blame, guilt, and shame that should really belong to the drinker. Al-Anon focuses on detaching from these emotions and establishing healthy boundaries. Those closest to the addict can become as addicted to helping the alcoholic as the alcoholic is to alcohol.
Many Al-Anon members struggled for years with the difficult challenges of coping with alcoholism. It is often easier to think about continued difficulties than a positive solution. This is a main reason why it is easy to come up with so many reasons not to attend an Al-Anon meeting. Many people have felt anxiety about attending their first meeting. Overcoming this reluctance is an opportunity for personal growth, the first of many that the Al-Anon program offers. It is the first step on the road to recovery for the Al-Anon attendee. Al-Anon is a resource that allows the loved ones of alcoholics to take control of what they can, which means simply taking care of themselves and preventing the negative effect of alcoholism from bringing them down.
For meeting information in Canada, the US, and Puerto Rico, you can call 1-888-4AL-ANON (1-888-425-2666) or browse online for virtual meetings.
Life can be good again and we'd like to show you how.