Benefits of Group Therapy for Addiction
When you are the only one struggling with addiction in your family or friend group, it can feel lonely, like no one can relate to the issues you are struggling with. When you are deep in your addiction, isolation can follow, leading to a lonely life. Addiction makes you feel like no one can relate to or support you in the way you need.
Fortunately, though it may not feel like it, there are many individuals throughout the world who want to support others through their recovery. In fact, there are people here to help in nearly every city and town in the world. This is the amazing part of recovery: the community you can find through support groups and drug rehab facilities like Boardwalk Recovery. The fraternity of men who walk out of our treatment program not only regain old friendships but build a new group of authentic lifetime friends. After all, people in recovery are able to relate and connect with people who have also felt, experienced, and endured the struggle of addiction.
At first, many clients believe that they can only be vulnerable and process their emotions in the privacy and comfort of their primary therapist's office. However, there is a lot of growth that comes out of listening to others and obtaining active listening skills, which can apply to other relationships outside of recovery. The opportunity to relate to other people who have been through the same struggles is something you gain endlessly through group therapy.
What is Group Therapy
Therapy groups are typically composed of clients who have the same therapy team, who are working through 12-step goals together, or who share mutual milestones. Processing emotions in these settings allow for a "safe space" to obtain support from peers through encouragement, assistance, and accountability. Participants have the opportunity to relate to each other, but there is also an opportunity for clients to gain insight from varied perspectives. Whatever the addiction and whatever the condition, group therapy plays a fundamental role in recovery. Together, clients journey on the same path of rehabilitation from their substance abuse challenges.
Types of Group Therapy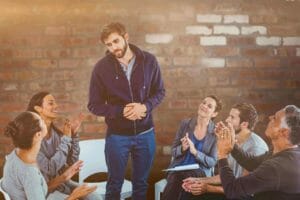 There are two types of support groups. The first is what one traditionally thinks of when they think of group therapy for addiction. This type of group therapy session is run by a psychotherapist with a specific treatment plan. All members of the group are usually at similar points in their recovery plans. In some rehab facilities like Boardwalk Recovery, groups can be composed of clients at varying stages of their recovery. This allows the opportunity for clients to see the process of treatment work, and those succeeding in their recovery have the opportunity to model respectful group behavior. This group roster allows the newer clients coming straight from detox to learn from other clients who have also been through the process.
The other type of support group is peer-led. These groups are held in a more casual and informal setting, where members, on varying places of the recovery spectrum, disclose their individual stories for the benefit of other attendees. Attendance is voluntary, as is leadership, but both help immensely in addiction recovery.
Does Group Therapy Work?
The data supports these benefits of group therapy. The Substance Abuse and Mental Health Services Administration estimated that an average of five million clients attend a self-help support group each year in the U.S., and of that number, almost 50% did not use drugs or alcohol the month before their interview for this study.
Another report from the National Survey on Drug Use and Health found that people as young as twelve years old attend support groups to help heal from substance abuse problems and addiction.
Role of Group Therapy in Treatment
Both types of group therapy are beneficial but offer different strengths for recovery.
Groups led by registered, certified, and licensed therapists provide group organization, structure, and direction. In addition, these facilitators focus on managing mental health concerns and developing personal recovery plans.
Peer-led support groups offer more accessible and convenient scheduling. The other benefit of peer groups is that this type of group support can last for years after treatment and can lead to lifelong friendships. In any type of group, groups composed of people who have been through similar experiences help others feel encouraged to share stories and perspectives.
Other Benefits of Group Therapy for Recovery
Connecting With Others in a Non-Judgemental Environment
Group therapy reminds clients that they do not need to be disconnected from other people during their recovery. This group connection offers a network of advice, assistance, and new skills. The clients in group therapy know that they will not be judged for what they have done in the past or how they feel in the present. In group therapy, all members must be respectful and non-judgmental or they are redirected by the facilitator.
Developing New Coping Strategies
The group discussion also introduces new coping strategies to clients. When other group members open up, peers learn from someone else who has been through the same process, and who may have insights about the progression of recovery.
Sense of Accountability and Understanding
Group therapy provides accountability to addicts who may have struggled with holding themselves accountable in the past. It is important to remember that even clients who have successfully finished a rehabilitation program are always at risk of relapse. Other group members are vital because these individuals know the risks and temptations their peers face. New members that join the group become inspired and are motivated to stay sober if they hear the stories of others, from the proud moments to the challenging ones.
Boardwalk Recovery Center provides psychotherapy in both group and individual sessions. We also encourage involvement in recovery communities with an emphasis on the 12 steps of anonymous peer support groups. Contact us today to learn more about the benefits of group therapy and how our team can help develop a treatment plan to create a life of recovery.
Life can be good again and we'd like to show you how.